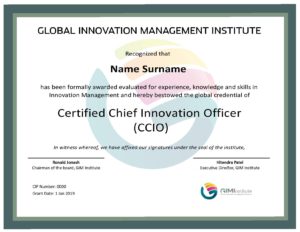 GIMI Certified Chief Innovation Officer (GIMI CCIO) is a business innovation leader, officially recognized by the GIM Institute. GIMI CCIO (1) demonstrates an advanced understanding of business innovation systems and strategy, capacity, and discipline, and (2) has a capability to come up with insights and solutions in managing innovation within organizations.
GIMI Chief Innovation Officer Certification is designed to innovation leaders, who aim to understand how to drive business innovation and manage innovation within an organization. Certified Chief Innovation Officers apply a variety of tools and techniques to manage innovation portfolios and innovation systems, establish and drive a sustainable innovation culture, and take a leadership role on innovation capacity, strategy, and discipline.
Modules of Chief Innovation Officer (CCIO) 
– Innovation Management: theory, innovation framework, and key tools
– Innovation Strategy: why, when and where to innovate
– Innovation Capacity: innovation process, people and resources
– Innovation Discipline: innovation leadership, culture, and metrics
– InnovationSystem: innovation audit, monitoring, and results
Validity of Application
You have six (6) months to take the exam from the date you applied for the certification.
How to prepare for the exam?

To earn GIMI Certified Chief Innovation Officer credential, the innovation leader has to meet the experience (at least 10 years in the field of innovation) and education (university degree or adequate) requirements and pass the examination, an 80-question, multiple-choice online test. Test takers will be tested on their understanding of the concepts and frameworks discussed in Innovation Management Body of Knowledge (IMBOK) as well as professional experience around business innovation. Regardless of how advanced your innovation experience or education might be, you should still prepare vigorously for the exam. Successful candidates typically use multiple study aids, including courses, self-study, and workshops. On average, successful candidates will spend 20-30 hours or more to prepare, so make sure you leave yourself plenty of preparation time before you take the exam.
Certification Fee/Pricing
Regular: USD 1050.00 + Admin/Handling Fee
Student: USD 550.00 + Admin/Handling Fee (In order to receive the student discount, please email us at support@giminstitute.org with your proof of student status. Accepted documents are valid student ID or latest copy of Transcript of Records.)