Individual Innovation Certification Program of the Global Innovation Management Institute (GIM Institute) is designed for anyone interested in becoming certified in innovation as a business discipline, from creative minds to innovation professionals to business leaders mastered in innovation management. This applies to anyone who wants to broaden their capabilities in innovation, build a career in innovation, or help their organization become a leader and high performer in both the creation and capture of business value via business innovation and innovation strategies
Certified innovation experts will gain insights around new approaches to many different functional areas of a business, including marketing, technology, finance and sales. GIM Institute certifies individuals at Innovation Professional Certification, Chief-Innovation Officer Certification and at four levels of innovation proficiency.
GIM Institute Certification by titles: GIMI CIP and GIMI CCIO
GIMI Innovation Professional Certification – GIMI CIP –  is designed to innovation professionals, who aim to learn the idea generation and implementation tools for breakthrough innovations. Certified Innovation Professionals apply these tools to create more and better innovative ideas, and tackle real-world challenge by generating new growth opportunities for the organization.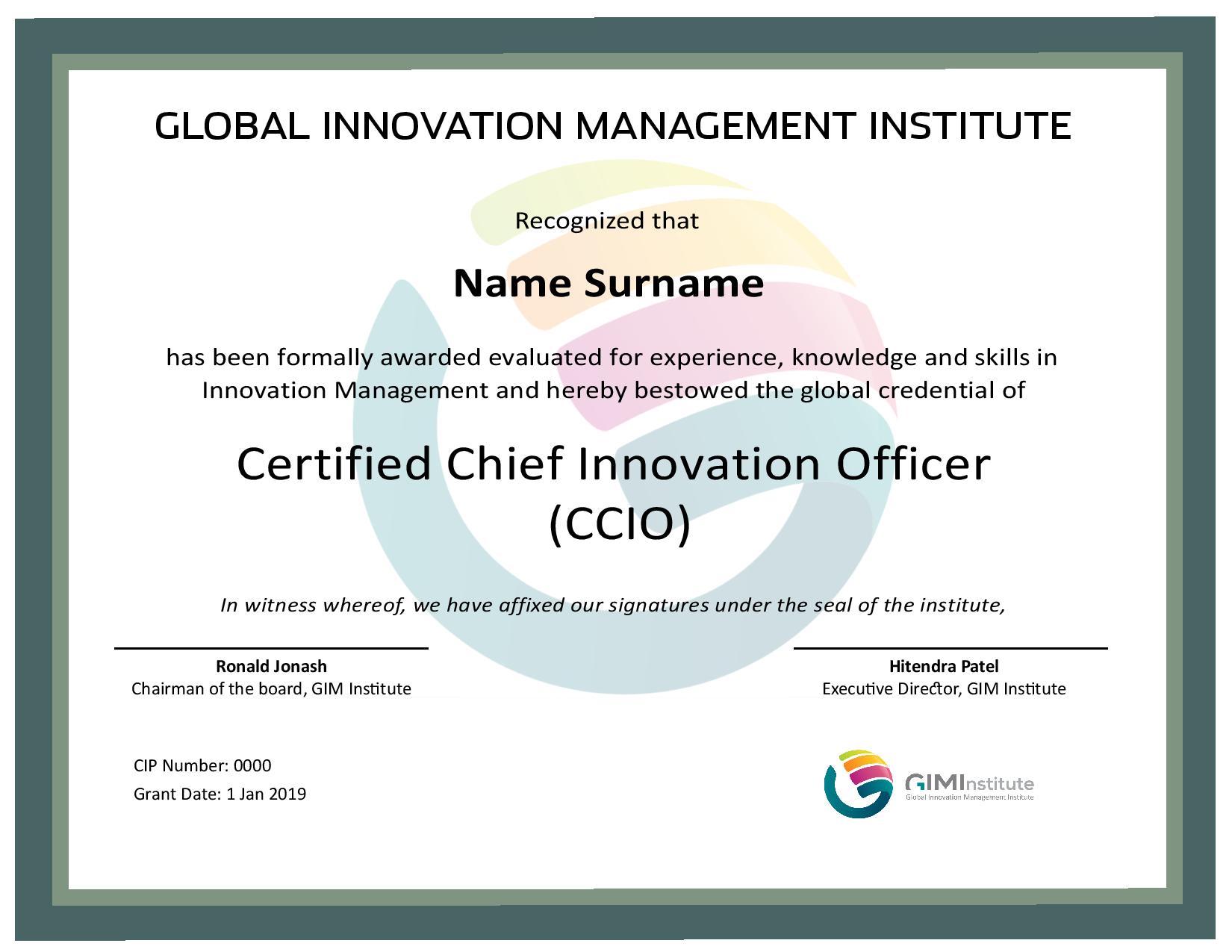 GIMI Chief Innovation Officer Certification – GIMI CCIO – is designed to innovation leaders, who aim to understand how to drive business innovation and manage innovation within an organization. Certified Chief Innovation Officers apply a variety of tools and techniques to manage innovation portfolios and innovation systems, establish and drive a sustainable innovation culture, and take a leadership role on innovation capacity, strategy, and discipline.
GIM Institute certification by Levels
Each level builds on previous levels with an emphasis on learning by doing through projects